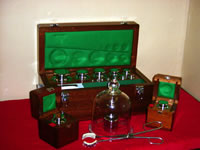 The National Institute of Metrology is organised as a research and development institute in the field of metrology, subordinated to the Romanian Bureau of Legal Metrology (BRML).
Main activities of the INM consist in the development, maintenance and use of the national measurement standards, providing the traceability to the SI and dissemination of the units of measurement at national level.
INM operates as a public interest self-funded institution and has its own budget.